Fe Arts Gallery presents....."HOMEBOUND"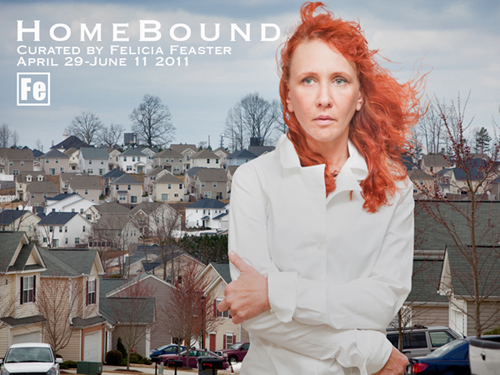 As the next installment of Fe Arts Gallery's Guest Curator program, Fe will present Homebound, April 30 through June 11, 2011. The exhibit, curated by Felicia Feaster, features the works of six artists Meg Aubrey, Anna Watson and Mary Turnipseed, Patrick Heagney, Nate Kamp and Seth Clark, and deals with the contemporary concept of "home."
"The American narrative has always valued the home as a symbol of hard-work, family life, goals achieved and investment in the future. But the housing crisis, the unchecked suburban sprawl and architectural alienation which New Urbanism has decried in American home design and even the alienation fostered by the Internet, "nesting" and the recession have contributed to a change in how we see the home." Ms. Fester has chosen these artists to create works that explore and deal with the contemporary American home in all of its meanings, as a source of comfort and a refuge from the world's aches, as a sturdy symbol of individual American might as it's always been, or as a metaphor for American isolation?.
Opening Reception: Saturday, April 30th, 7:00-9:00pm
Exhibition runs from April 30-June 11, 2011
Open & Free to the public
---
Call for Curatorial Proposals

Fe Gallery is currently reviewing proposals to be a Guest Curator for the 8/12-9/17 slot. The deadline to submit your application was Friday, April 1, 2011. We will release more information in our next newsletter coming in May.
Please click here for more information.
Currently on Exhibit:
Donald Judd Remix
curated by Vicky A. Clark
Donald Judd's boxes defined minimalism by setting an iconic example. A priori decisions, industrial materials, proportional relationships, hand of the artist gone, non-referential, clean, serial. They were killers that changed the way we viewed forms and works of art. Even later critical interpretations couldn't alter the stripped down essentialism.
Exhibition closes: Saturday, April 23rd, 4:00pm

---
Spotlight On....JERSTIN CROSBY
With our continuing focus on Lawrenceville, we are turning our attention to a Pittsburgh newcomer. His name is Jerstin Crosby and he creates interdisciplinary works that combine seemingly unrelated contexts into forms that are both humorous and subversively dark. He moved to

Pittsburgh

from North Carolina 15 months ago, and currently lives on Home Street in Lawrenceville where he has a make-shift studio in his basement.
You can currently see work by Jerstin which is featured in "Gestures 15", the fifteenth installment of the

Mattress Factory

's "Gestures: An Exhibition of Small Site-Specific Works" series. The work will remain on exhibit from March 25-July 24 at the annex gallery located at 1414 Monterey Street. Guest-curated by Katherine Talcott, Gestures 15 includes new work from Sue Abramson, Chris Craychee, Jerstin Crosby, Will Giannotti, Deborah Hosking, HOT SPOTS, Stephanie Mayer-Staley, Ingrid Nagin, and Garry Pyles.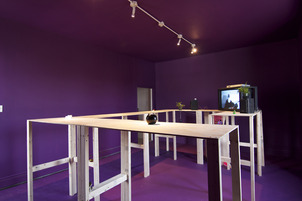 To see more on Jerstin Crosby click here
To see more on "Gestures 15" click here
---
Making the Rounds at Fe Arts Gallery and then......
Art All Night at Iron City Brewery
Art All Night Lawrenceville
is back for its 14th year, this time with extended hours, and more art than ever before. An eagerly awaited, annual celebration of arts, community and creativity, this year's event takes place at the
Iron City Brewery on Saturday, April 30th, starting at 4pm, and concludes on Sunday, May 1th at 2pm
. Due to popular demand, this year's event will begin earlier to allow for additional children's activities. Children's activities will begin at 4pm and include a community quilt, a dance party with puppets from the Puppets for Pittsburgh lending library, button making, and much more. In addition to the expanded children's activities, Art All Night will feature a wide variety of live performances, opportunities to create art on-site, and a unique blend of visual art on display for the community over the course of this nearly 24-hour event. Sunday morning, the Rotary Club of Lawrenceville will host a pancake breakfast. Like every year before it, Art All Night is free to all. T
o learn more about the event, including how to register artwork and how to get involved as a donor or volunteer, visit
www.artallnight.org
. Get connected -
RSVP for the event on Facebook!
WYEP FM is again the media sponsor for Art All Night and will broadcast live from the event on Saturday night. Additional support comes from the Pennsylvania Council on the Arts, Children's Hospital of Pittsburgh, local businesses, and voluntary attendee donations. Art All Night is the recipient of a Community Event Microgrant from the Lawrenceville Corporation's Mainstreets Pittsburgh program, a program of the Urban Redevelopment Authority which is funded in part by the City of Pittsburgh, Mayor Luke Ravenstahl, and the Pennsylvania Department of Community and Economic Development.
---
Behind The Scenes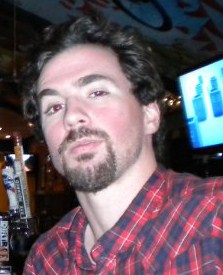 The first installment of a new series to our newsletter will feature a closer look at the folks who make it all happen at Fe Arts Gallery. This month we say hello to JARED BOYER.
Jared Boyer is currently enrolled at the Art Institute of Pittsburgh studying Web Design in an attempt to finally direct his life into a meaningful career and a stable life.

His twenties were very fun and full of meaning but very short on career and stability. During that time he found himself as a Marine in Iraq pulling convoy security, running checkpoints and supplementing the local military and police force; in the Amazon Basin in Ecuador teaching English, living out of his car for half of a year, graduating from college with a B.F.A. in Art, and working a whole slew of jobs ranging from security guard to art salesman to bartender and pretty much everything in between. During this time he also lost a signed Rauschenberg, visited the Galapagos, saw both side of the Pacific with a weapon in hand and jumped off a bridge because his friends were doing it (puenting).

Jared now lives with his beautiful girlfriend, Sara Dixon, in a crappy but character filled apartment on the East End. He has a fat little piglet of a cat named Ira, enjoys scrapbooking, writing, playing 8 bit Nintendo, eating, and drinking beer. He has a wonderful family and is a loving uncle, and has many diverse and wonderful friends.

---
2011 Exhibition Schedule
4/29-6/11 "Homebound" curated by Felicia Feaster
6/24-7/30 curated by Joshua Tonies
8/12-9/17 Call for Curatorial Proposals
9/23-11/5 curated by Katherine Talcott
11/11-12/23 curated by Ingrid LaFleur
---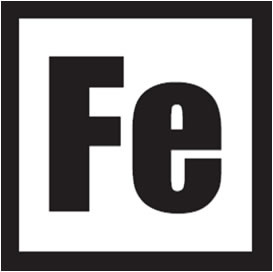 Our
mission
is to propel Pittsburgh into the heart of the national art community by providing exhibition opportunities to emerging and mid-career artists. Our
goal
is three-fold: to increase the visibility of regional artists; to enhance the art community by showcasing regional artwork along with bringing national and international artists' work to Pittsburgh; and to better serve Allegheny County by linking under-served non-art related populations with local artists to develop community based art programs which revolve around a visual art exhibition that promotes awareness through symposiums, poetry readings, workshops and performance art..
Contact Us:
address
~ 4102 Butler St. Pgh PA 15201
email
~ info@fegallery.org
website
~
www.fegallery.org
like
us
~
facebook.com
...
The Pittsburgh Art Blog
The Pittsburgh Art Blog features selected pittsburgh artists and upcoming exhibits with photos from the artists and galleries. since the major press outlets do not go beyond a directory listing of exhibits, blogs are needed to promote pittsburgh artists and their work. the blog also calls attention to the inferiority complex of pittsburgh art and how it's perpetuated by the major players in town. Started on August 20,2007. pittsburgh area galleries and art venues are listed at the sister site www.PghGalleries.com.
the blog and website are volunteer projects from fine art photographer and pittsburgh artist advocate rick byerly.